Online PF Status can be checked by an employee by using portal provided by the Government. Using this facility one can track the status of a claim and balance. but it's a Traditional way. The process present at beginning of the Article.
Know Your EPFO Claim Status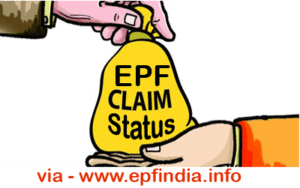 Know Your EPFO Claim Status, you will need some details . These details are as below
1. Your PF account number
EPFO Claim Status information. follow these steps :
Visit EPF India official website.
click on the "Know your PF Claim Status" text at the bottom of the webpage.
Click on the PF Claim Status check option and select states like MP, GOA, UP and other etc..
Select your area of EPF Office.
Enter region code and office code which are mandatory.
Enter the 7 digit establishment code of in the 3rd box
Enter the establishment code extension if any.
Enter the 7 digit account number.
Click on submit.
Get your EPFO Claim Status Details .